Know Your Preferred Zones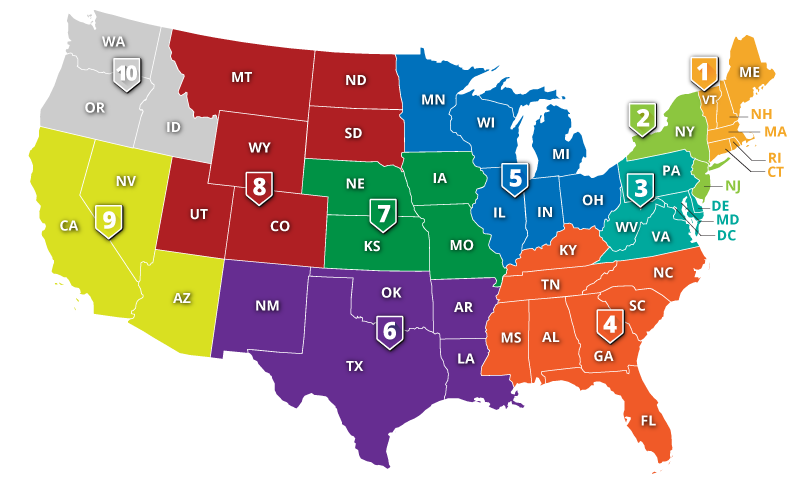 Use our easy-to-read map and find the shipping zones that work best for you!
More Frequently Asked Questions
What types of trucks do you use?
Hot Shot 40′ open trailers with ramps (hauls 8-10 carts) Note: Max load varies from 8-10 depending on where the ramps are stored on the trailer. 18 Wheeler or 53′ enclosed trailer without ramps (hauls up to 13 carts if you turn the last cart sideways). Note: When using this type of trailer you MUST have access to a loading dock or forklift. Double Decker 53′ open or closed specialty trailer (hauls up to 28 carts). Note: Some carriers have double-decker trailers that can haul up to 24 topped carts but most own trailers that can only haul up to 28 de-topped carts.

Does De-Topping or Roofing cost extra?
This varies by vendor. Some vendors require a $20-$30 per cart upcharge for labor. Please ask your Sales Rep for more information.

Is there a MINIMUM of carts for Shipping?
Yes, typical maximum to fill a HOT SHOT is 10 carts for a Hot Shot with ramps or without ramps. You can ship fewer carts, but the price will not go down.

How do I off-load carts? Do I need any special equipment?
In order to use any 18 wheeler trucks or larger trucks for hauling you must have a FORKLIFT or LOADING DOCK to off-load your carts. If you do not have this ability to off-load carts, then you will be limited to using a 40′ Hot Shot with ramps.

How wide should your trailer be?
Since your standard golf cart is 4X8, you can get away with just having a 5X10 utility trailer to tow it with. Usually, these size trailers have a ramp like back that comes down so you can easily drive the golf cart up into the trailer. Then you can close the back and secure it in place.

Will the golf cart fit in a truck bed?
"Yes, if you have a standard truck and a standard golf cart, then it should fit snuggly in the truck bed. The only thing you'll have to worry about is getting the golf cart into the bed of the truck. Most dealerships will help you load the golf cart in your truck, but you'll also want to get ramps to get the golf cart out when you get home."

What are the general dimensions of a golf cart?
The standard golf cart is about 4 feet wide by about 8 feet long and usually is about 6 feet high.
| Golf Cart | Length | Width | Height |
| --- | --- | --- | --- |
| Club Car® Precedent Dimensions | 91" | 48" | 69" |
| Club Car® Precedent with Back Seat | 104" | 48" | 69" |
| Club Car® Precedent 6 Passenger Limo | 142" | 48" | 77" |
| 6 Inch Lifted Precedent | 91" | 51" | 77" |
| 6 Inch Lifted Precedent with Back Seat | 108" | 51" | 77" |
| Club Car® XRT 850 SE 6 Passenger Limo | 144" | 51" | 77" |
| Club Car® XRT 950 4x4 or 4x2 | 103" | 54" | 76" |
| Yamaha Drive Golf Car | 91" | 44" | 70" |
| Yamaha Drive Golf Car with Back Seat | 108" | 44" | 70" |
| 6" Lifted Yamaha Drive Golf Car | 91" | 51" | 76" |
| 6" Lifted Yamaha Drive Golf Car with Back Seat | 108" | 51" | 76" |
| EZ-GO TXT / RXV Golf Car | 93" | 51" | 67.5" |
| EZ-GO TXT / RXV golf Car with Back Seat | 108" | 51" | 67.5" |
| 6" Lifted EZ-GO TXT / RVX Golf Car | 93" | 51" | 76" |
| 6" Lifted EZ-GO TXT / RVX Golf Car with Back Seat | 108" | 51" | 76" |